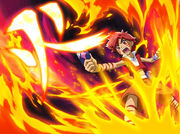 Hwa is The Tigeroid Tai Chi symbol that represents fire. It is used by Rai, and it's his signature Tai Chi card.
Episode 1 : An Amazing Discovery
Appearance
Edit
A flaming circle on the ground around the user.
The Hwa card allows its user to send a torrent of fire in the air towards its opponents.
Hwa + Po (aggression) = Pock (explosion)
Hwa + Hwa = Yum (flame)