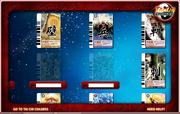 This page is all about the 4Kids TV game to find the cards.
Follow:Collection to get to the site.
Finn unlocks Bing
Donha unlocks Byuk
Army unlocks Byung
Slice unlocks Cham
Sena unlocks Chun
Break unlocks Dan
Steel unlocks Gaang
Open unlocks Gae
Ghost unlocks Ghwee
Sword unlocks Gum
Rai unlocks Hwa
Change unlocks Hwah
Slippery unlocks Hwal
Tori unlocks Hwan
Luka unlocks Ja
Lightning unlocks Jeon
Tree unlocks Mok
Garnia unlocks Pok
Whip unlocks Pyun
Cage unlocks Rwae
Jahara unlocks Sa
Force unlocks Sae
Stone unlocks Seok
Laugh unlocks So
Water unlocks Soo
Wings unlocks Woo
MORE SOON!